Scenic Parks Explorer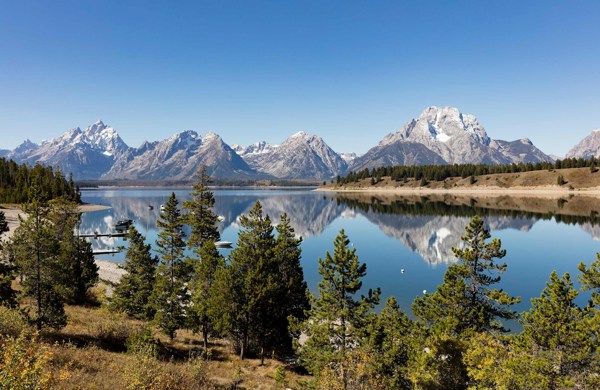 Scenic Parks Explorer
This National Parks tour is an iconic journey, culminating at the Grand Canyon, through Zion's pink cliffs, Monument Valley's imposing mesas, Grand Tetons' alpine landscapes, and Mount Rushmore's rock-hewn faces. Hear from a Native American storyteller and overnight in Yellowstone, soaking it all in in just 15 days.
Dining Summary
1 Welcome Reception (WR)
14 Breakfast (B)
2 Lunch (L)
6 Dinner (D)
Be My Guest
Billings: Learn all about Billing's railroad history during a Be My Guest dinner at the historic Billings Depot. Built in 1903 as a hub for three major railroads passing through town, it is now a non-profit organization. A historian from the nearby Western Heritage Center will be your host for the evening and will share the rail industry's importance to Big Sky Montana. Afterwards, a local chef will delight you with a wonderful three-course menu .
Palisade: Visit the 'Peach and Wine Capital of Colorado', perfectly nestled along the Colorado River.  Stop at a local family's orchards, 'Connect with Locals' as you meet with family members and learn about the history of this farming family.
Dive Into Culture
Grand Canyon National Park: Meet a geologist at the South Rim of the Grand Canyon to learn about how this natural marvel was formed and all the different layers that make up the Colorado Plateau.
Iconic Experience
Las Vegas: Get a glimpse of Las Vegas from the sky as you hop on the High Roller, North America's tallest observation wheel standing 550 feet tall. The 30-minute ride offers breathtaking, 360-degree views of the glittering lights and neon of the Strip below.
Zion National Park: Connect to history as you wander paths and trails, following in the footsteps of Native Americans and the earliest pioneers. Lush vegetation, wild rivers, roaring waterfalls and towering cliffs characterise the natural beauty of this park.
Salt Lake City: Your Tour Director will point out key features and areas of interest on arrival to Salt Lake City.
Grand Teton National Park: We head to Grand Tetons National Park for sightseeing.
Yellowstone National Park: Without a doubt a bucket list destination for many travelers - welcome to Yellowstone National Park. Established as America's first National Park by President Grant in 1872 Yellowstone is famous for it's hot springs, bubbling mud pots, vast canyons and lush forests as far as the eye can see.
Cody: You'll get a glimpse into the "Spirit of the West" at the Buffalo Bill Center for the West museum complex. As you wonder through this huge set of exhibits you'll feel like you've been transported back to a time of cowboys and cowgirls, gun-toting lawmen and brave Native American warriors.
Black Hills: Contribute to the preservation of the heritage of Native Americans during a visit to the Crazy Horse Memorial. This iconic monument represents the Oglala Lakota warrior 'Crazy Horse' on land considered sacred, in the Black Hills of South Dakota.
Little Big Horn: We travel to the famous historical site of Little Bighorn, the battlefield where General Custer and his men were roundly defeated by combined forces of Sioux, Cheyenne, and Arapaho Tribal warriors in 1876.
Mount Rushmore: We'll visit Mount Rushmore National Memorial, where you can view the faces of four of America's most important presidents, dramatically etched into the granite rock face. Carved into the face of Mount Rushomore are the faces of George Washington, Thomas Jefferson, Abraham Lincoln, and Theodore Roosevelt.
Vail: Vail is one of Colorado's great playgrounds. While the winter attracts the ski crows, the summer draws in guests to the European-style Vail Village. Surrounded by towering peaks the pedestrian village offers a unique mix of shops, restaurants, pubs, and cafes. The locals take pride in their friendliness and making sure that Vail has a cosmopolitan feel while at the same time remaining unprentious.
Arches National Park: Visit Arches National Park, housing the greatest concentration of natural arches in the world. Some 6,000 natural sandstone arches can be found within the boundaries of the national park.
Canyonlands National Park: It's on to Canyonlands National Park for a drive onto the Island in the Sky - a mesa resting 1,000 feet (305 meters) above the surrounding countryside, offering spectacular views over the dramatic sandstone formations.
Grand Canyon National Park: Arrive at one of the seven natural wonders of the world and the second most visited national park in the United States, the Grand Canyon. Encompassing 278 miles (447 km) of the Colorado River and adjacent uplands, Grand Canyon is one of the most spectacular examples of erosion anywhere in the world and offers unmatched vistas along its rim.
MAKE TRAVEL MATTER®
Rapid City: Meet Stephen Yellowhawk or a Lakota Tribe Member and discover the history of his tribe during a festive evening of dance and song.
Monument Valley: Make Travel Matter on a journey through the desert to Monument Valley Navajo Tribal Park, where you will board all-terrain vehicles to explore the valley with your Navajo guide.
Grand Canyon: Travel to Desert View and bask in the views of the Grand Canyon and the iconic watchtower decorated with its Hopi artist murals. Make your way to an Inter-tribal Cultural Heritage site where members share their stories, family histories and provide cultural demonstrations such as carpet weaving and traditional song and dance performances. Our visit and donation provide a continuous source of seed funding for the heritage site while allowing guests to engage directly with Indigenous community members.
Must-see Highlights
: Explore the Grand Canyon with Tim, a Local Specialist and Geologist
Tour Differently isn't just what we promise, it's what we deliver.
Dream holidays without the stress of the 'what ifs', is what we do. We design our tours so you can experience the world differently. You'll get the personal service, attention to detail and ease you're looking for, while enjoying the unmissable experiences you've always dreamed of. Discover why Trafalgar tours have been trusted by 5 million guests and are proud to deliver the very best tours that you'll cherish for ye
...